Why did the dog bite? Oh, this is just not right!
Off to the hospital - this stinks - will I have to spend the night?!

My hand swelled up and my fingers would not bend.
My skin turned odd colors.... could this be the end?!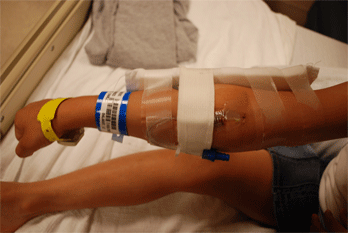 I am told this is the place I need to be,
and was fitted - yikes - with an IV.
For several days this will be my new home,
and soon made comfortable by nurses Dawn, Carla, Debbie and Joan.
My arm was boarded to help keep it straight,
the antibiotics are working... we just have to wait.

I got lots of attention.
Some... I'd really rather not mention.
Oh... Days have passed and I am feeling much better.
Thank goodness it worked, my hand is less redder.

All the doctors have been shown...
Yeah! I am cleared to go home.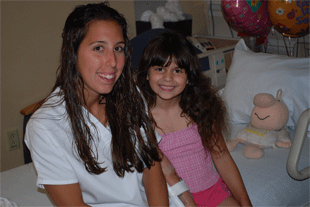 Intern Jessica
Last minute fun with Jessica... we danced on all the different shapes.
How thoughtful she was... doing whatever it takes.

Remember, when life isn't fair,
you NEED someone to care.

So if your little... and hurt... and don't know where you should be...
Go to South Nassau Pediatrics, Room 206, Bed 3.

Click pictures for larger images
Taken after 12 hours of antibiotics!
Still not great - but, believe it or not,
this is much better.
Other than a few 'key' moments, Charlee was amazing! I learned a lot about my kid! She never lost her compassion, joy, or silliness!
The last day she had the nurses dancing up and down the halls!
She sang the
'I am an AMAZING human being!'
song and 'taught' a lesson on bones!
Had to improvise a little on her dance moves... kind of hard to move her arm with a board attached.